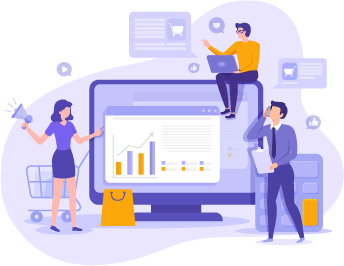 We are web specialists who guide you to determine the actions needed for an Effective Website Analytics Strategy.
Why do you need Website Analytics?
To ensure the decisions you make regarding your website and online marketing campaigns are being driven by your overall business plan, you need to put a strategy in place.
All too often, organizations have tactics in place for web analytics but are not guided by an overall strategy that will lead to the accomplishment of critical business goals. This is where CreateWP Web Studio can be of service.
Our Website Analytics Process
1. Determine the Primary Goals & Objectives of Your Website
To develop an effective web analytics strategy, first and foremost, it is essential to establish the primary goal(s) of your website. In other words, why does your website exist? You will not be able to measure the success of your website, unless you first clearly define the goals and objectives of your site.
The focus of a website should always be either on increasing revenue or reducing costs.
2. Focus on Conversions
Measures such as page views, most popular pages and visitor traffic are not indicators of website success.
A site that has more visitors from one month to the next is a sure sign that visitor acquisition is increasing but does not suggest that the website is performing well.
More relevant measures of website performance would be whether visitors are interacting with your site or performing the tasks that are in the best interest of your organization.
For example, an eCommerce site showing a 50% increase in visitor traffic but no increase in sales would be viewed as a failure.
Conversion of visitors to buyers is vital. Similarly, a self-service website displaying an increase in visitors to the site but a decrease in visitors downloading service patches or support documents could not be viewed as a success.
Thus focusing on conversions is the key to success. Much more than just tracking successful shopping cart check-outs, conversions extend to all websites and numerous non-commerce activities such as:
Filling in a form form
Downloading a document
Signing up for an event
Responding to an email campaign
Setting up My Account
Viewing a video
Updating a profile
Making a payment, etc.
3. Define Key Performance Indicators
Building on the concept of focusing on conversions, we now must use that data to build actionable KPIs.
Just like any other data set, web analytics data requires context to be meaningful.
Consider the value of the following web metric: a 20% increase in the number of page views on a website.
If it's an eCommerce site, and the goal is to build awareness of products and services, this metric could be good news.
However, if it's an informative website with the goal of increasing self-service, a 20% increase in page views could mean that visitors had difficulty navigating the site, in which case the same metric could be bad news.
If we know that these KPIs are improving, we will have confidence that more leads are being generated. For example, KPI's may be:
Conversion ratio per visitor increase over last month
Percentage of purchases per inquiry increase over last month
Rate of forms completed per visitor increase over last month
Average number of visitors who sign up for an event increase over last month
4. Track Progress and Review Strategy Regularly
It is vital that you revisit the goals and objectives of your website. If you don't, your strategy may fall by the wayside.
Get a
quote on a website analytics implementation?
We will help implement your ideas in the most creative way. Get in touch with CreateWP today.
what do our customers say
Create WP offers a super efficient service with a high level of technical expertise. Their support is always very prompt and responsive and they're always happy to assist with resolving any technical issues.
I have used CreateWP to create a number of websites over a number of years> I've found them to listen to what I need, as well as creative and responsive when I've needed some extra help. I strongly recommend them!
We are happy to work with such respected companies!
Google Analytics is a web analytics platform you can use to track and analyze the performance of your website or…